The winner and champion is Red China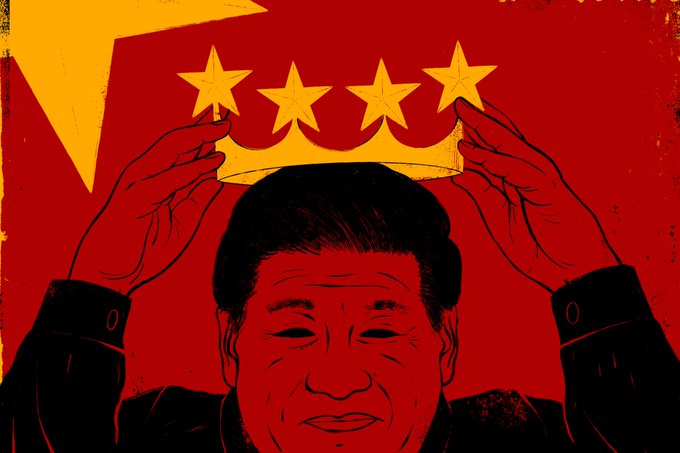 Dennis Prager asked, "Cui bono? Who benefits from the Afghanistan withdrawal?"
He generically concluded our enemies benefited most.
To be sure, Iran no longer neighbors an American-controlled Afghanistan. And Russia enjoys the schadenfreude of the moment, although it will regret the Taliban expanding into all those stans to Russia's south.
But the winner and champion is Red China. Without firing a shot, Red China has subdued its biggest enemy, the United States of America.
Decades of buying politicians (Feinstein, Bush 41, Biden, et cetera), compromising Corporate America with cheap labor, and poisoning the well of our academia with Maoism have paid off. Without firing a shot, Red China has had America surrender a nation it controlled.
There was no more. Afghanistan was South Korea, which has survived and thrived under a truce for 68 years.
Prager reported, "The number of American servicemen killed in Afghanistan per year from 2015 to 2020 is respectively 22, 9, 14, 14, 21 and 11. No one can seriously argue that we are leaving Afghanistan because of high American casualties."
I, too, fell for that Longest War crap. We should have stayed. The government in Kabul was not perfect. But South Korea suffered under military control for several decades. It now is a western-style republic. Afghanistan was on that road. Good things do not come overnight.
Last October, the Los Angeles Times praised Chairman Xi in a piece, "Dreams of a Red Emperor: The relentless rise of Xi Jinping." It called him president. He is not. He is one of a series of chairmen of the Chinese Communist Party to rule with an iron fist.
Tanks in communist countries are for domestic purposes. Those May Day parades are a warning to the populace, not the West.
The LA Times said, "Since coming into power in 2012, Xi has often drawn comparisons to Mao Zedong, the party's and People's Republic of China's founder, a demigod who ravaged the nation in pursuit of communist ideals that led to widespread starvation and arbitrary killing, yet commanded adoration from the masses."
Well, I suppose you win the popularity poll when the choice is between loving the Dear Leader or starving in a re-education camp.
The LA Times said, "No Chinese leader since has held as much authority — until Xi. But he is not Mao 2.0. A disciplinarian, not a revolutionary, Xi is driven by a need for control. He is a legalist in the tradition of Han Feizi, the philosopher who taught China's first emperor, Qin Shi Huang, that people are fickle and selfish and must be kept in line through law and punishment. An ethnic nationalist, Xi holds a vision of Chinese revival that draws on allusions to past empires. He speaks in Marxist terms of class struggle and uses Maoist tactics such as self-criticism and rectification, but his brand of communism also promotes Confucius and e-commerce."
Ah yes, that e-commerce bull-shevik nonsense. There is no free enterprise in Red China. There are just figureheads. In a Maoist move, Xi stripped "billionaire" Jack Ma of his wealth for acting too Western.
The LA Times praised his covid 19 reaction.
The newspaper said, "To appreciate Xi's grip on the country, one need only look at the coronavirus — China stumbled early with the Wuhan outbreak, but quickly recovered through strict lockdowns, contact tracing and mass testing. It has virtually stemmed the disease while racing to become the first nation with a publicly available vaccine. China's economy grew nearly 5% in the third quarter while the United States and Europe continued to struggle with COVID-19. Xi and the party point to such signs as proof of the Chinese system's superiority."
Oh, let us give Cuomo's Emmy to Chairman Xi.
The truth is Red China unleashed biological warfare on the world and got away with it by buying off WHO and pulling the strings on Bill Gates.
The message from Kabul is clear. Taiwan, you are on your own. Ditto the rest of the world. Biden belongs to Xi.
As vice president he flew with his son Hunter in Air Force Two to pick up a billion-dollar investment from one of those fake Chinese billionaires in Beijing.
And all of Washington knew this and did nothing.
Just as Washington will do nothing to Biden and the Drugstore Generals who gave away Afghanistan.
As for the Taliban, beware. The Uyghurs once were allies of the communist.
Read the full post at Don Surber Blogspot.