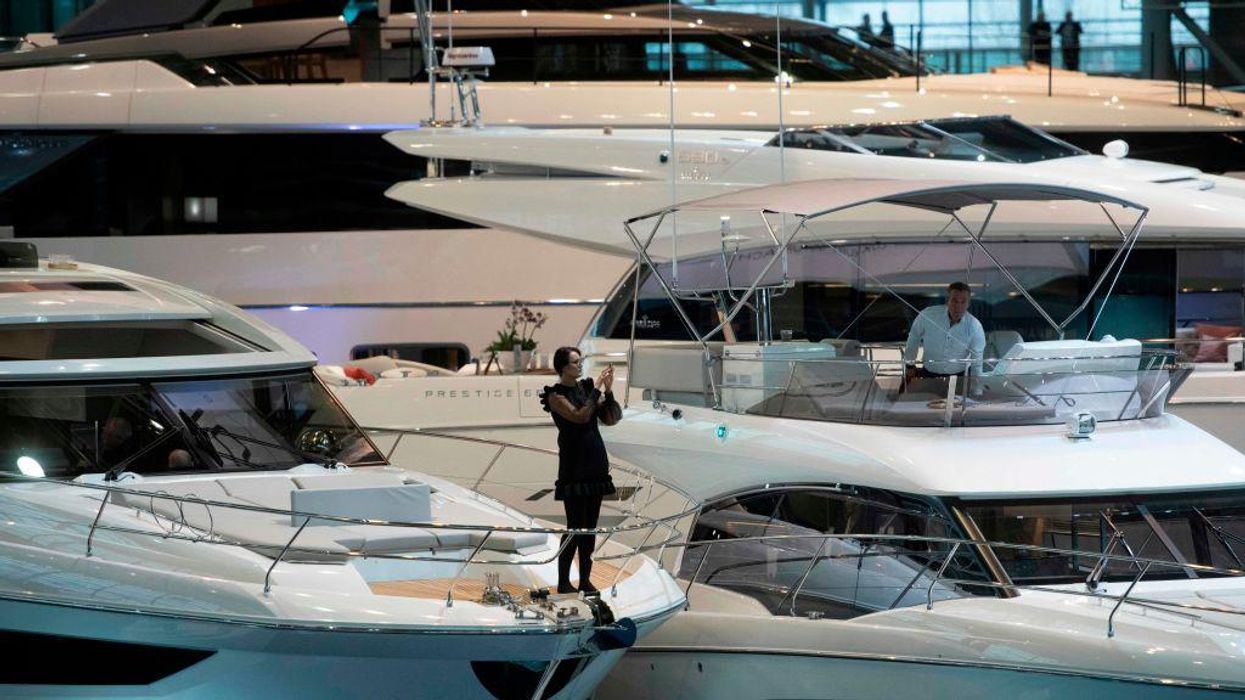 A carbon emissions reduction plan proposed by the European Commission last summer appears to have a special carve-out for the ultra-wealthy.
In July 2021, the European Commission proposed expanding its Emissions Trading System to create a carbon pricing scheme that would cover CO2 emissions from ships. The plan was one of several proposals announced for the EU's "fit for 55" initiative, which aims to reduce greenhouse gas emissions among member states by at least 55% by 2030, with the lofty goal of reaching zero carbon emissions by 2050.
But a new study from Transport & Environment, an influential European environmental group, finds that the EU proposal exempts over 25 million tons of CO2 from its carbon price for shipping. The group says that "arbitrary exemptions" of these certain classes of ships will result in CO2 emissions equivalent to the yearly volume of emissions produced by the whole of Denmark.
The regulations only apply to ships above 5,000 GT (gross tonnage) and among the offshore vehicles exempted are fishing vessels and yachts.
BREAKING: Loopholes in the EU's proposed carbon pricing for shipping would mean that some 25 million tonnes of CO2 are exempt.\n\nThis would leave roughly 20% of shipping emissions unregulated, including high emitting vessels servicing offshore oil and gas, as well as yachts.

— Transport & Environment (@Transport & Environment) 1642059420
That's right — the pleasure boats of Europe's wealthy elite won't have to comply with the emissions standards set up by the European Commission's bureaucrats, who claim these emission standards are needed to save the planet from a climate catastrophe.
Environmentalists are upset, of course, because they say loopholes in the standards will exempt just over half of Europe's ships, event though they account for nearly 20% of the EU's shipping emissions.
"It's good that the EU is finally trying to address shipping's appalling climate impact. But its proposal based on arbitrary loopholes lets too many heavily polluting vessels off the hook," Jacob Armstrong, a sustainable shipping officer at T&E, said. "The EU must rethink its shipping laws to ensure that millions of tonnes of CO2 don't go unregulated."
To fix close these loopholes, T&E proposes to create a system that is based on the "emissions threshold" of certain ships, rather than on their size. The group claims this would allow the carbon pricing scheme to cover more emissions without adding an administrative burden to the industry.
But such a pricing scheme could mean that the super rich could be penalized for owning super yachts. And that would, of course, mean billionaires who fly around the world in private jets and lecture the rest of us about our carbon footprints would have to practice what they preach.
(H/T: ZeroHedge)
Read the full post at The Blaze.
Cross Talk News Read the full post at Red Voice Media.